The Youth Effect Book
By Ronald L. Brown, MD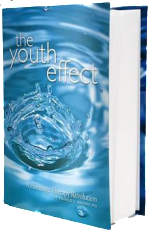 The Youth Effect - A Hormone Therapy Revolution
Considering hormone replacement therapy? Barraged with conflicting messages about its safety? Do you wish you could cut through the confusion and find out exactly what you stand to gain or lose if you choose the HRT path?
In The Youth Effect, Dr. Brown offers a clear, concise view to the heart of these weighty matters. Here, you'll learn why just about everything you've read in the media about HRT is wrong.
Also included in The Youth Effect:
Foreword
"I am a radiologist who specializes in breast imaging. I am also a patient of Ronald Brown. Hormone replacement has risks and benefits, and I sought his opinion for help not only for myself, but for my patients.
There are so many conflicting messages regarding hormone replacement therapy not only in the popular press, but also in the medical literature. Even doctors are confused by it all, and we expect you to make your own choice!
It is true that whether you start hormone replacement or not, you are making a decision. I believe the best decision is an informed decision. It is important to understand why hormone replacement may make good sense and when it may not. Not all hormones are equal. There is a difference in the biochemical types and in their function. The requirements for hormones vary during an individual's lifetime and with her (or his) physiological needs. What works for your friend or relative may not be the best choice for you. On the other hand, an uninformed choice to avoid hormone replacement may put you at risk for other health problems, which may require the use of medications that might be avoided with the appropriate hormone replacement therapy. In other words, if you want to age gracefully, I encourage you to do your homework.
Over the years, I have been fortunate to have Dr. Brown as my own personal source of information on these matters. Now, so do you.
Everyday I see women suffering through "the change of life," and they are fearful of hormone replacement - although they may know that it could help relieve their symptoms and improve the quality of their lives. This book takes a simple, clear, level-headed, research-based approach to describing the pros and cons of bio-identical HRT, both for menopausal symptoms and the consequences of aging; shows why it's different from traditional hormone replacement; and helps to guide you to making your own best choice.
Dr. Brown has methodically synthesized all of the information to date on the subject. He has carefully applied that knowledge to helping thousands of patients like myself. The book covers more than hormones for women (amd men); it also helps you to integrate a truly healthful diet, exercise regimen, and supplement plan into your life for that total "Youth Effect."
As a physician, a breast imaging expert, and as a woman who continues to benefit greatly from Dr. Brown's approach to bio-identical hormone replacement therapy, I value the opinions of this book's author highly. I encourage you to discover what he has to say.
To your best health,"
Laurene Mann, M.D.
Metrolina Women's Breast Center, P.A.